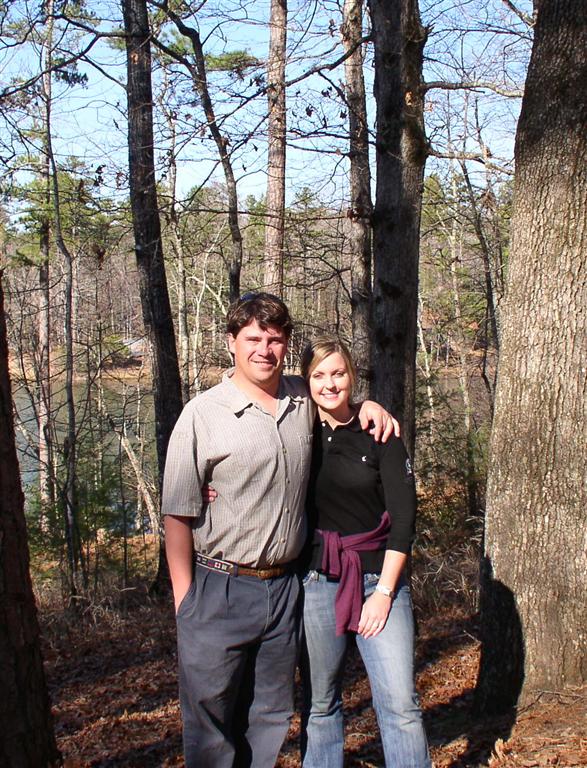 Meg Goodman Engaged!!
Bart Branan asked Meg to be his bride over the holidays. Congrats guys! We look forward to the big event.
A quick aside, Palmetto Paws is the place to go in Charleston or online for fine pet provisions.
---
Mike Ostella and Amy to Marry
Thats the word on the street anyway.
---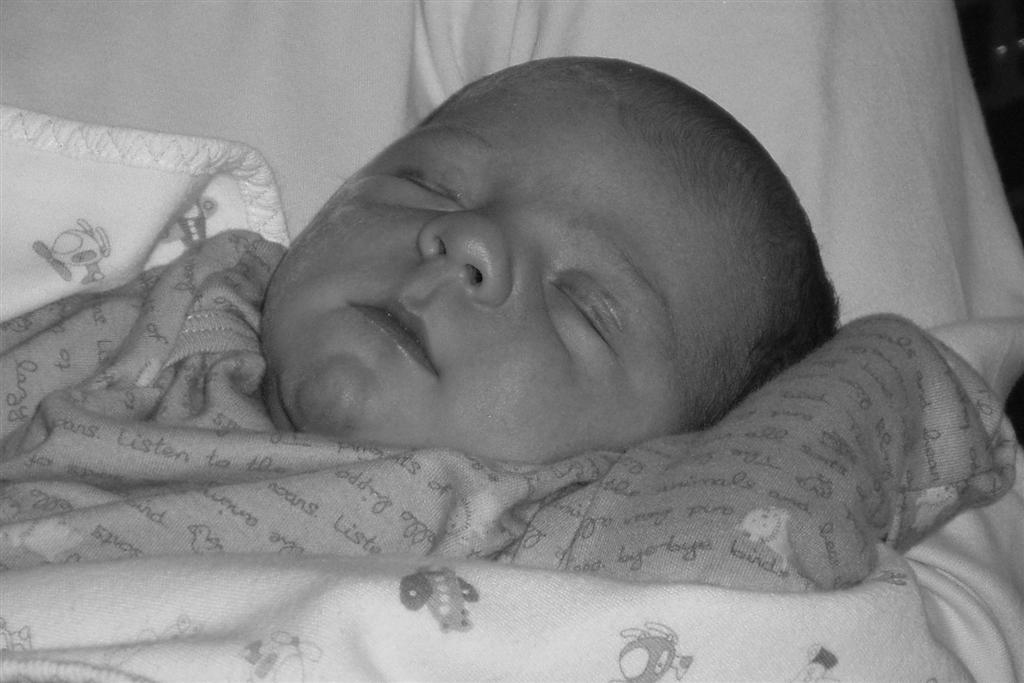 Joshua "Boone" Herman
7lbs1oz, 20.5 inches. Congrats to the Hermans!!
---
---


Red Sox Nation
Some of you may remember last fall that a Mr. Henry Oakey wrote a missive to Mr. Roosevelt concerning the Red Sox's loss to the Yankees in the 2003 Divisional Championship. The letter, as we all were lucky enough to read, contemplated life, baseball, and friendship. This year Mr. Roosevelt felt obliged to return the gesture.
Read the Letter
Last Years Letter
---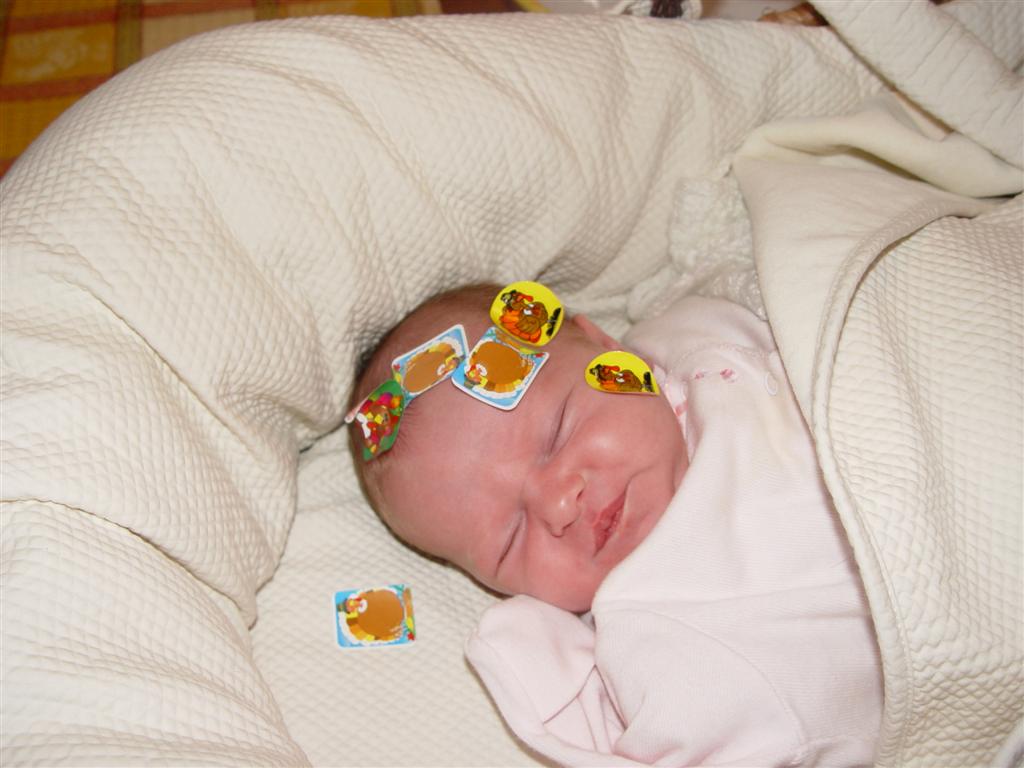 Picture of the Day Update
---
Lela Mather Thompson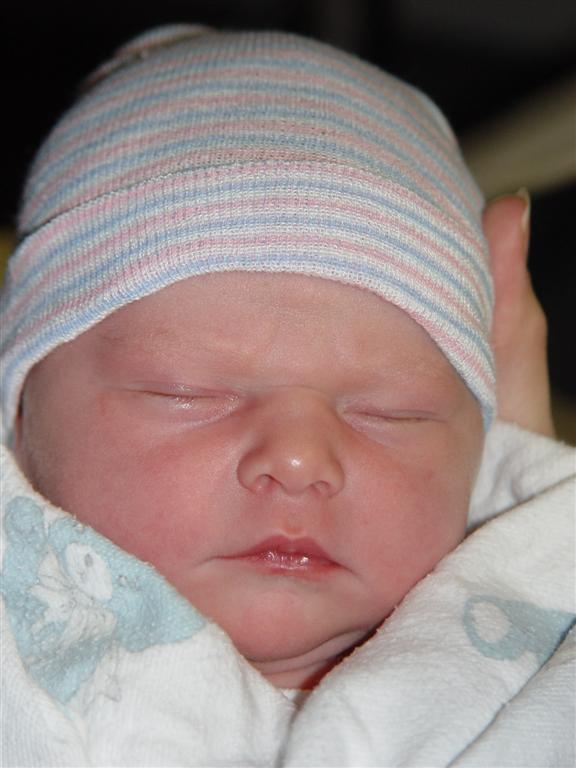 October 26th, 2004
---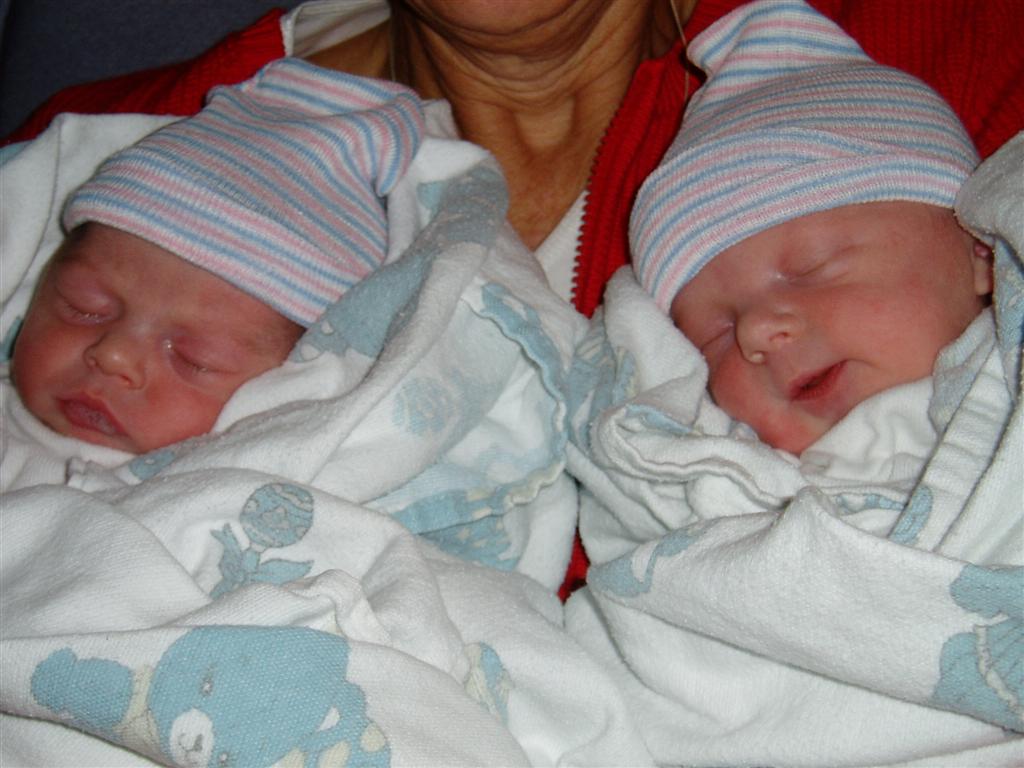 Sparks Twins!!
Austin (6lbs 7ozs) and Sydney (5lbs 8ozs) Sparks were born yesterday in Hickory, NC to Lori and Steven. This means that, for the first time, Stirling has cousins (not one but two!!) and I am an uncle (with a niece AND a nephew!!). Both the twins and momy are doing very well. Incidentally, Lela is due any day. It could be a busy week for the Thompson/Sparks families.
Steven and the twins Twins together
---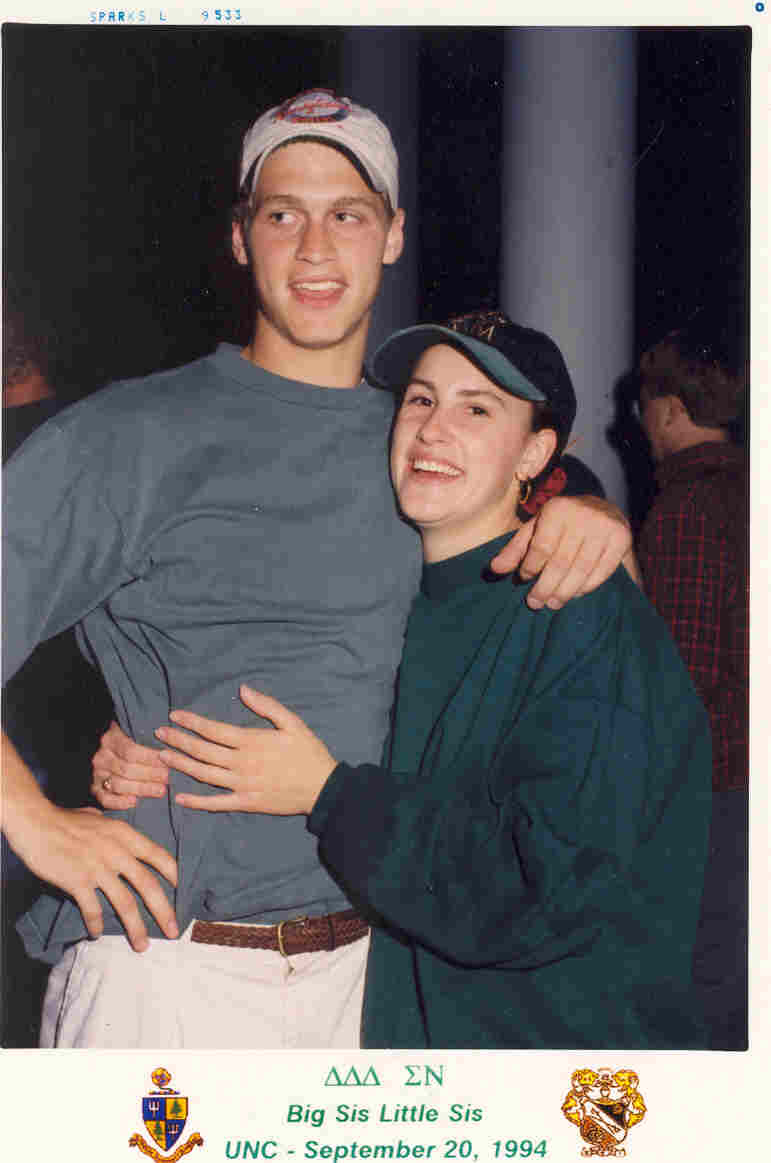 Apprentice??
Pretty classic here, Lela is attempting to woo one of the Apprentice II dudes in her sweet baggy sweats. From a freshman year in college sorority event. I am pretty sure I am hoping he gets fired sooner rather than later.
---
\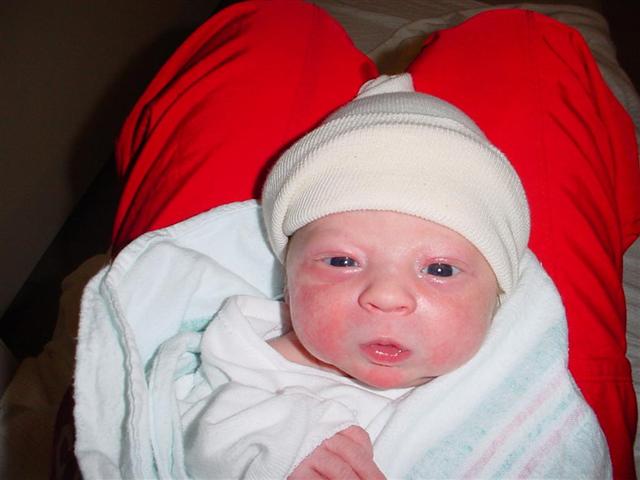 Daniel Monroe Gilbane Jr.
Daniel Monroe Gilbane Jr. was born Saturday morning at 10:54 am. He weighed 7 pounds 9 ounces and is a happy healthy baby. Congratulations to the Dan and Eleanor and all the rest of the Gilbanes!! How wonderful it is to have yet another child with us. A bit scary that there is another Gilbane (see: Dan, Tom, Mike) but I am sure the world is a better place.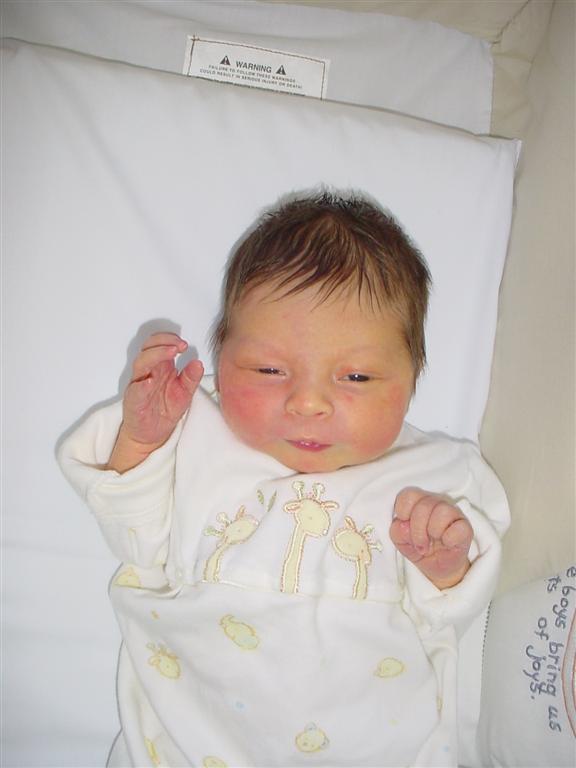 ---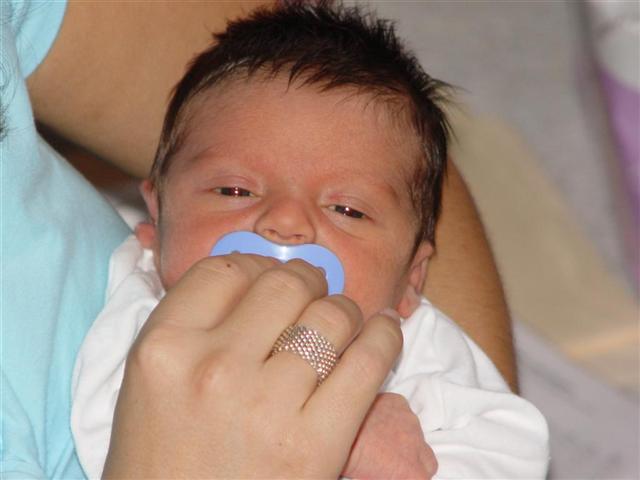 Griffin Alexander Lovern
Congrats to Ryan and Chris, he is a beautiful bouncing baby boy!!
More Pictures
In Mommy's Lap
In Mommy's Lap 2
With Daddy
---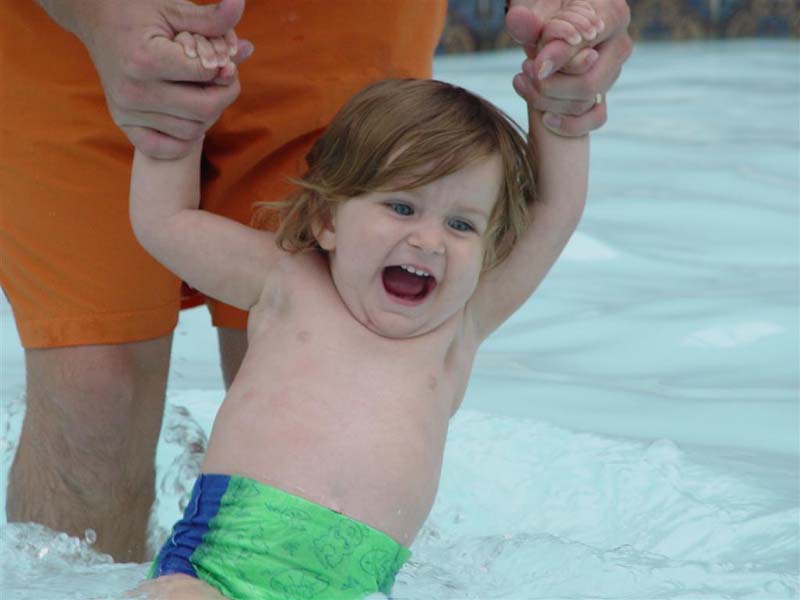 A catch up on some missing 'pictures of the day'.
---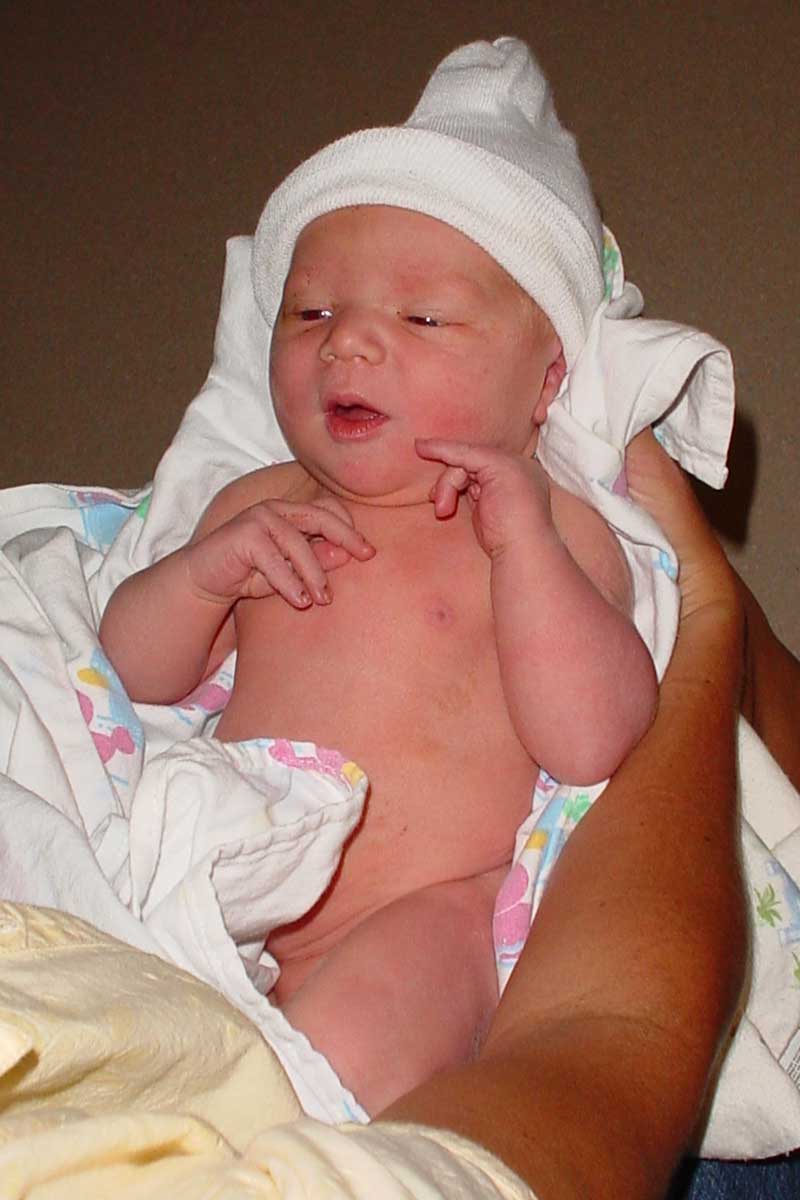 Tobias (Toby) Walker Barnes
Born June 24th at 5:38 AM at 9 lbs, 14 oz, and 24 inches (Thats a big baby!). Congratulations Josh and Emily, he is beautiful!!
---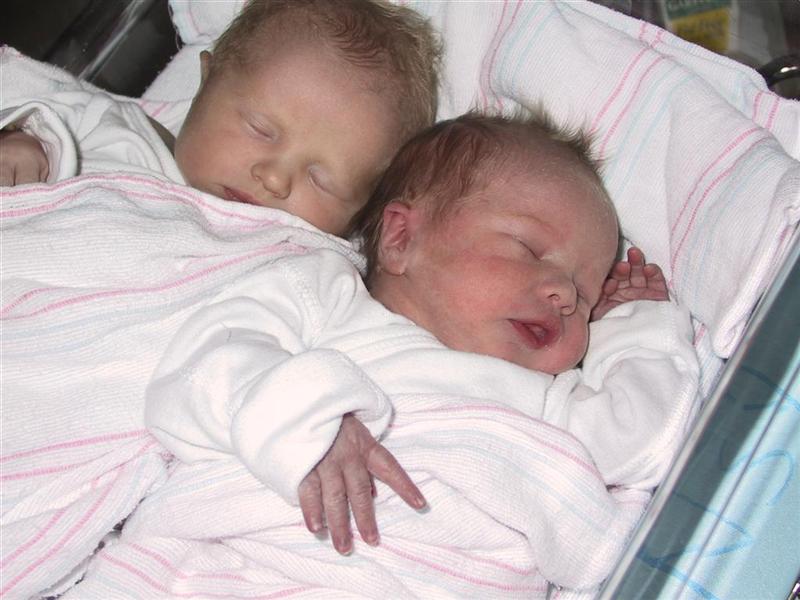 Peyton Putnam Sichol & Carter Hansen Sichol
Lowey Sichol gave birth to one child Thursday evening and one early Friday morning. Congratulations Lowey and Adam!!! We can not wait to see some pictures!!
May 27, 11:59pm - Peyton Putnam Sichol, 5 lbs 13 ounces, 19 3/4 inches, blonde hair like mom.
May 28, 12:10am - Carter Hansen Sichol, 5 lbs 1 ounce, 17 3/4 inches, brown hair like dad.
More Pictures
---
April 6th:
We have some winners. Congratulations to Henry Oakey, the overall winner, and Bill Winterer, the Thompson Family winner. Henry, your shirt is in the mail. Thank you everyone for playing. I know that I look forward to next year.
March 23rd:
Down to the sweet sixteen with Chris Thompson holding on to a one point lead over Lela, the Hermans, and Henry Oakey. However Chris (Kentucky), Lela (Stanford), and the Hermans (Kentucky) have lost their picked champ. Henry Oakey looks strong with the most possible points left on the board including six of his Elite Eight. With shocking consistentcy John Macalister pulls up the rear. Note to John, there is no last place prize in this pool.
March 20th:
The Hermans are in the lead after the first round with 31 points. They had 29 out of 32 games correct and a couple upset points. Lela, Dave, and Lindley share second.
---
A little background

This contest started years ago in the depths of the Thompson family basement. Macon would studiously set up and run what became an intense and beloved family event (the Thompsons being a generally competitive bunch). With the advent of the internet this contest grew and evolved to include not just extended family members (winterers, tenneys, sparks, etc) but also friends.

It should be noted that this a 'friendly' competition with no entry fees of any sort. There is however a grand prize. I know I have promised on this before and not delivered but last year, for the first time the winner did in fact receive an award. Below is a picture of last years winner (Eli Burstein) modeling his prize (the shirt logo). Yes fans of ltandlela.com, this also serves of notice of an official website clothing line. Distribution is extremely limited. Limited in fact to winners of this contest. Do not call telling me you want one (I expect demand to be overwhelming) because you will not get it unless you win.

It should also be noted that there is both an overall winner and a family winner (thompsons, tenneys, sparks, etc). However only the overall winner gets the shirt.
Shirt Logo
Last Years Winner, Eli Burstein
---
Two For One
Wedding Special!!
It has been a busy fall wedding season and I am a bit behind in posting pictures. Therefore we have a two for one special. On October 25th Meredith and Bryan Etheridge were married in a beautiful ceremony in Raleigh and on November 15th Phil and Heather Deguire were married in Atlanta. Congratulations to both beautiful couples!!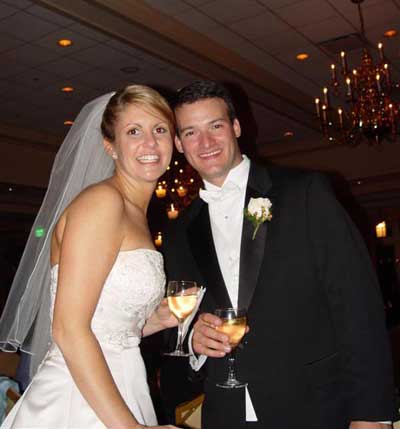 What a get together this was. Set in the beautiful Dunwoody section of Atlanta this was a wedding for the ages. On Friday night the Williams crew gathered and met the Atlanta and Duke contingents for a night of sushi at Ma Li's (A friend of Heather's family owns the place, I highly recommend it.) Saturday night was an absolute blast. It was wonderful to see our old friends the Deguire family, finally meet the Wilkinson clan and their friends, and of course, all the Williams crowd was there in high form.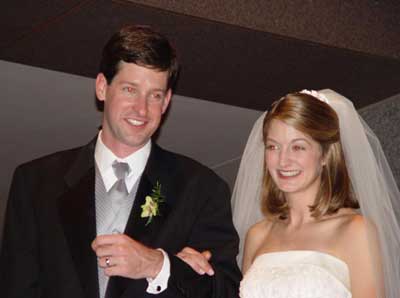 What a special wedding this was. Friday night was great fun. Saturday we all got to go to the state fair and eat deep fried food of all varieties (make sure you check out these pictures, there are some good ones), the wedding ceremony was beautiful and the reception a blast. The setting for the reception, the North Carolina Museum of Natural History, was just stunning. It is also relevant to note that the bride was gorgeous and that I beat all the native North Carolinians in 'North Carolina Trivia'.
---
LTandLela.com Hits 20,000
We are proud to announce that as of sometime this last week (month?) this website has had 20,000 visits. Truly a milestone. I hate to do this, but I feel like I need to use this momentous occasion to scold all of the people who have made this day possible.
Stop it. Get back to work. Stop messing around. I am talking to you Roosevelt, and you Burstein, and all the rest of you slackers.
---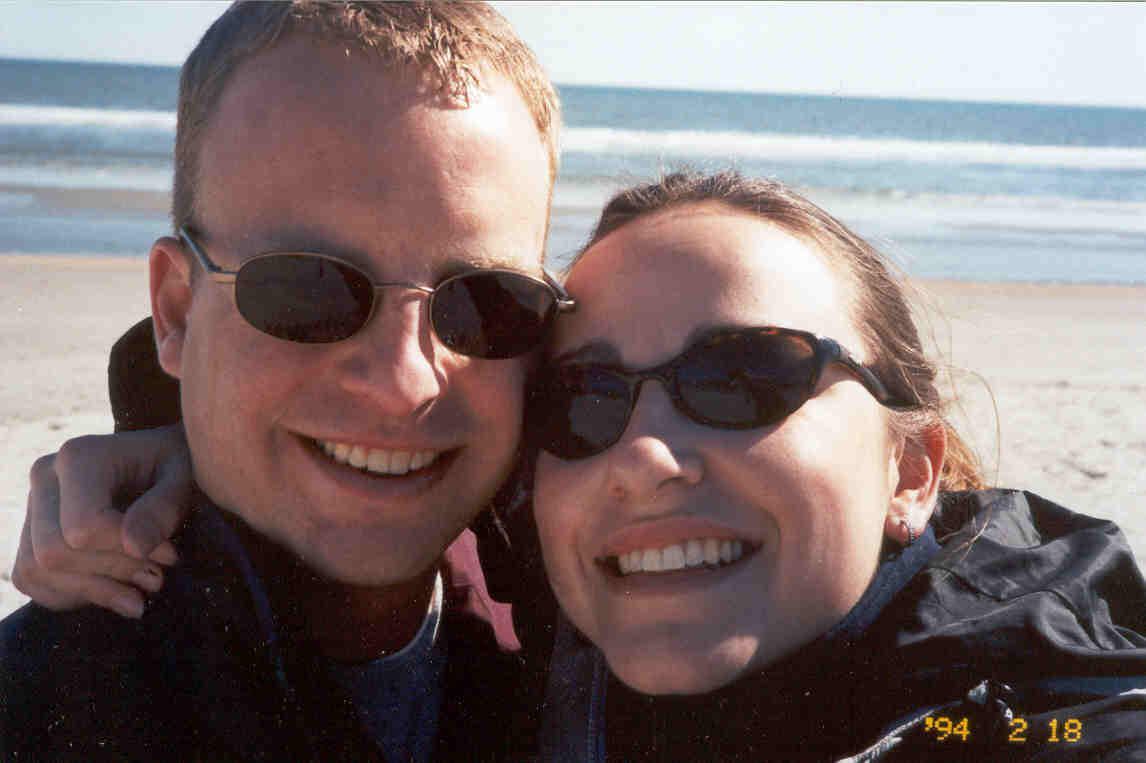 Laura and Dave Engaged!!
---
Philip Stedman Oakey
On November 11th Woody Oakey gave birth to a 7 lbs. 8 oz. 21 inch long boy. The word ten days later is that child, mother, and father are all doing well and settling into their new routines. Congratulations Oakeys!!
---
Two More Birth Announcements and an Update!!
Congratulations to Steph and Tom Ryan on the birth last week of a beautiful little girl Lily Hamilton. And a little late but check out William White. Another. Good work Kevin and Karen.
We have also received word that Josh, Emily and Anna Barnes have moved out of the woods to a house WITH electricity. While this might seem like standard fare to most readers this is really an accomplishment for the Barnes. No word yet on what Josh plans to do with his collection of ten gallon gas cans. Anna Barnes is doing well. Here are some new pictures. One. Two.
Happy Day Happy Day!!
It has been quite a week for our friends in Hickory and beyond. We have FOUR births to announce. Congratulations to Mark and Paige Bowman on the birth of Thomas Ward. To Bradley and Allie Pierson on the birth of their daughter Avery Caroline. To Roger and Meghan Young on Charles Roger Young III (Picture One, Two). Finally to our wonderful cousin's Drew and Shannon Winterer on their little girl Harriet Reese.
We are so happy for you all!!
and now.........
Hunter McNeill Pulliam!!!
Congrats Mebane and Cooper!!
Picture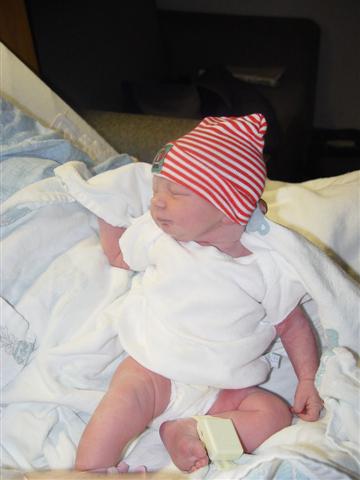 Meredith Jones
Congrats to the Jones on another baby girl!
---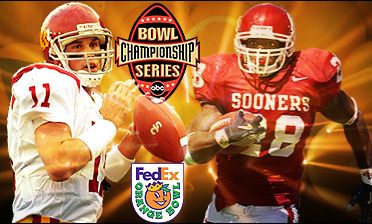 College Bowl Pick 'Em
(A Paying Event - Now closed to new entries)
---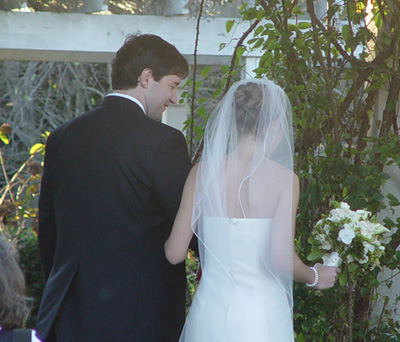 Sean & Kris Tie the Knot! (Finally)
In a beautiful ceremony in beautiful Fearrington Village, North Carolina Kristie promised to love and cherish our dear Sean. What an event. The bride and groom are off to Thailand for two weeks of wedded bliss. Best Wishes Calvillos!!
Official LTandLela.com Pictures
Being as much of a shameless self promoter as ourselves, Sean has sent along some links to more pictures. Note that most of the ofoto links do not require you to have an ofoto account. Just click the link and then click "view photos" on the resulting ofoto page. Thanks to those that sent us pictures.

Wedding From Ric Jr.
Wedding from Kristen Matthews (Ofoto account required)
Wedding From Jen Baughman (Ofoto)
Wedding From Steve Molnar (Snapfish)
Honeymoon Getting To Bangkok (Ofoto)
Honeymoon Bangkok Day 1 (Ofoto)
Honeymoon Bangkok Day 2 (Ofoto)
Honeymoon Phuket (Ofoto)
Wedding from Jenny Daniel (Ofoto)
Some quick thoughts on the Phuket pictures:
1. I am nothing short of shocked and dismayed there are no pictures of sean riding the short elephant. Stirling would have been all over that.

2. I am pretty sure that I am straight, but the picture of sean in the hot tub makes me feel funny all over

3. I love the four wheeling pictures, but you really did not need to travel to thailand to do that. You rednecks just come on down whenever you want to do that stuff
---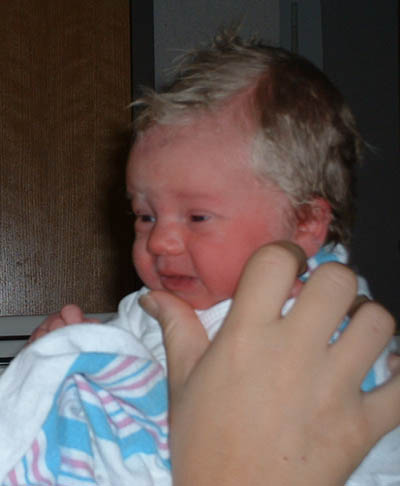 Vaughn Manning Vandegrift
Vaughn was born at 11:57am on Saturday, October 30, 2004. She weighed 7 pounds, 11 ounces and is 21 1/4 inches long. Congrats to SB and Mark! Lela and I were able to visit this weekend and she is adorable!
---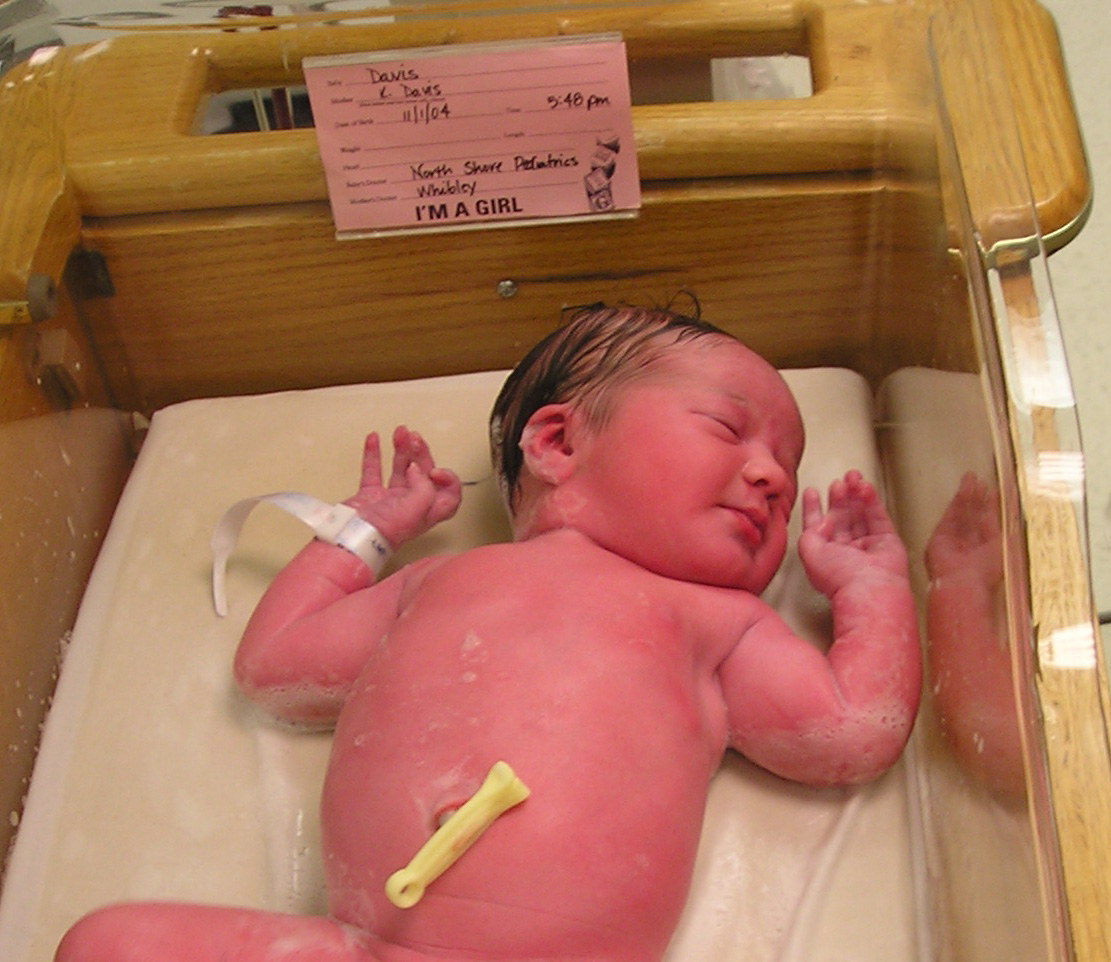 Caroline Logan Davis
Caroline Logan Davis was born at 5:48 pm on Monday November 2, 2004. She was 20 ½ inches long and 8 lbs 8 oz and has a full head of hair. Congrats to Katie and Reeves!!
---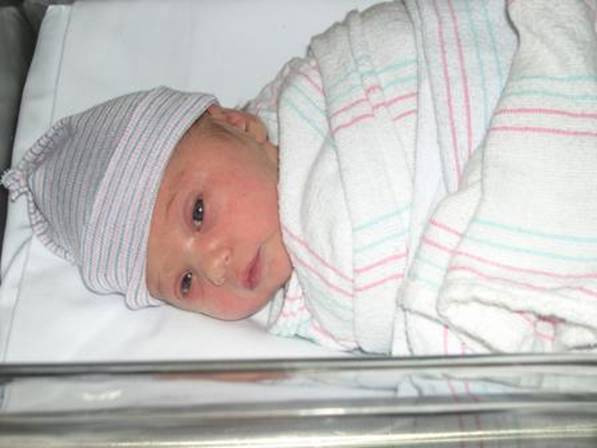 Henry Harris Cavanna
Tiernan gave birth to a beautiful baby boy on Saturday at 12:37pm. He weighed in at 7lbs. 2 ozs, 20 inches long. Congrats to Tiernan and Kiernan!!test
---
Lindley and Dale!! Engaged!!!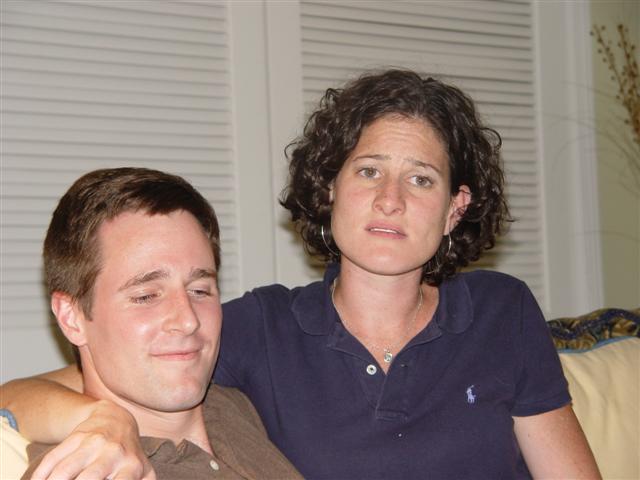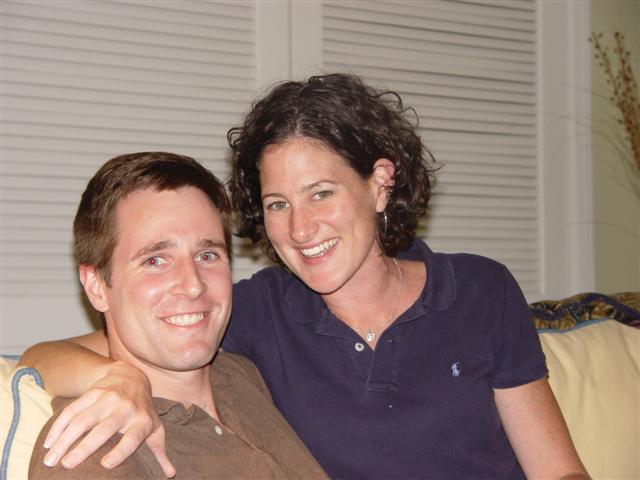 Thank you so much Lindley for these great Before & After shots. Clearly Lindley is happy to be excited, and why not? Dale is the best.
---
Cynthia Ribustello
Was born September 12th, seven pounds two ounces. Congrats to Steven and Inie!! So sad we have not gotten any pictures yet.
---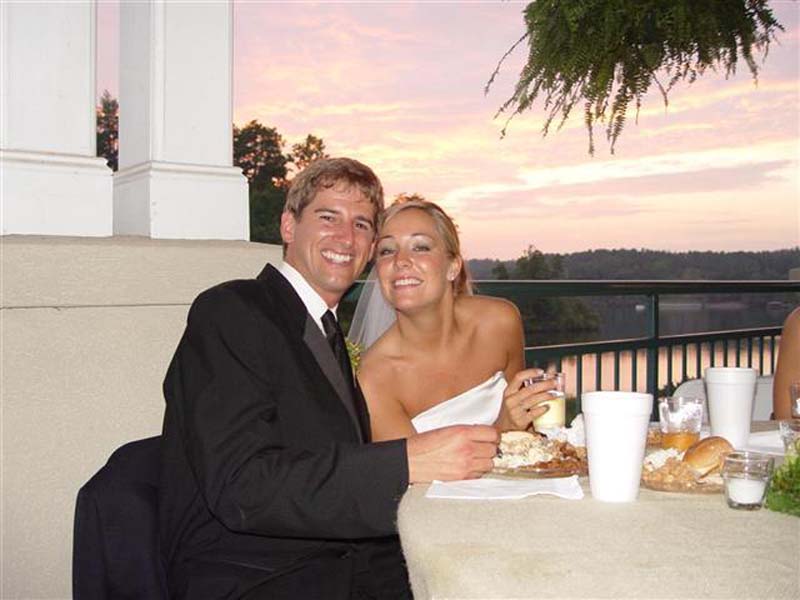 Matt & Rachel
Congrats to Matt & Rachel Rothert, married at First Presbyterian, Hickory on September 4th. We love you both and know you will make a wonderful couple. We hope you stayed dry in Jamaica!!
---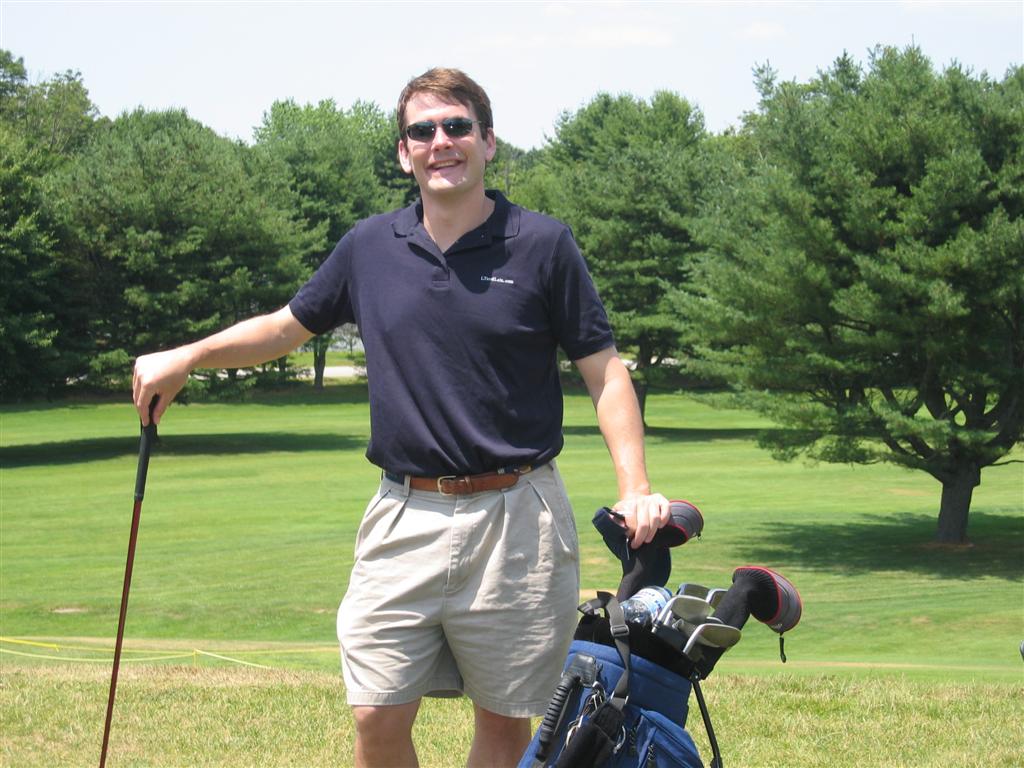 Check out this Stud
(Bill Winterer)
Wearing his new LTandLela.com Shirt. I know you all want one.
---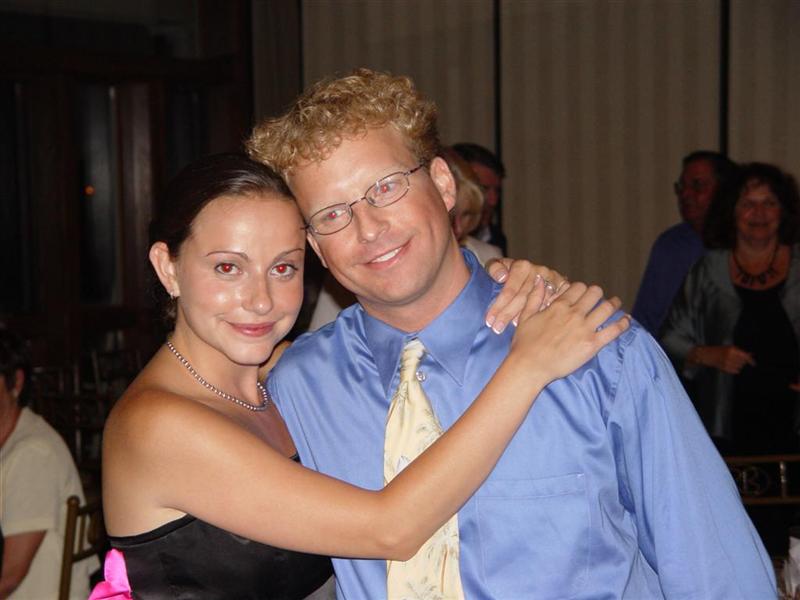 On a beautiful Hickory weekend Laura Sparks became Mrs. David Caldwell in front of all their family and friends. Everyone had a wonderful time and we wish them the best in their life together.
---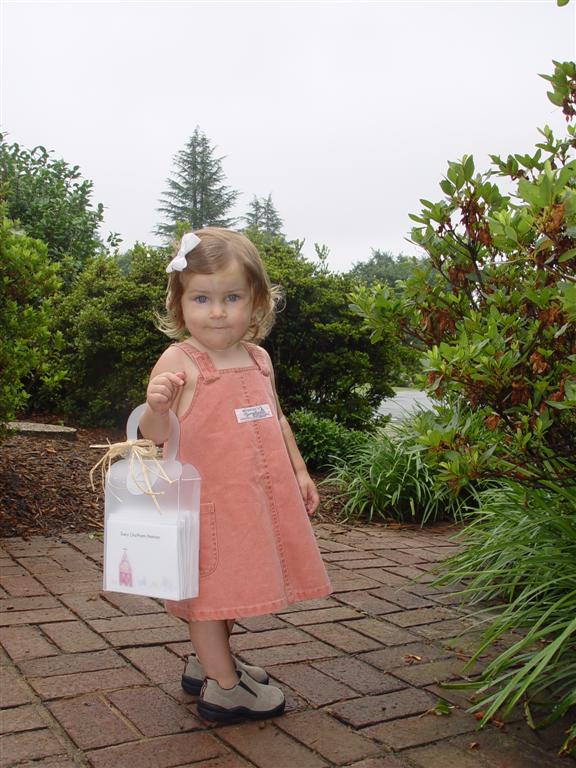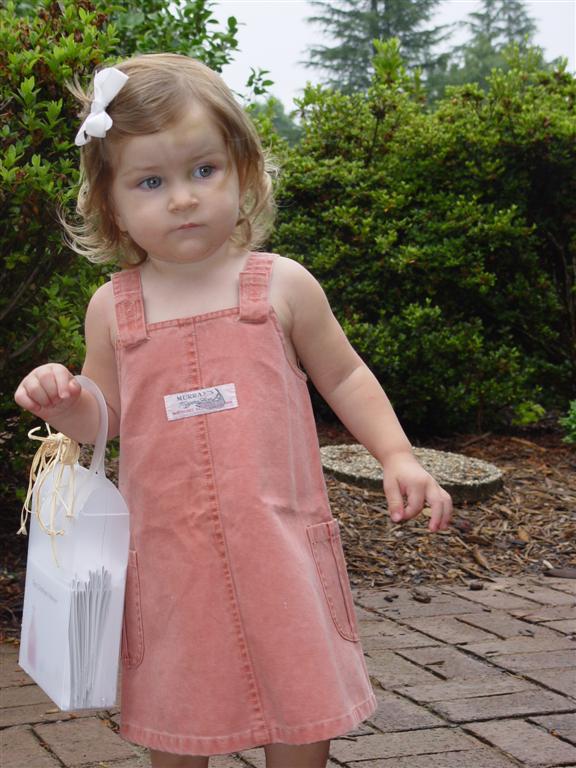 Picture of the Day
Archive
---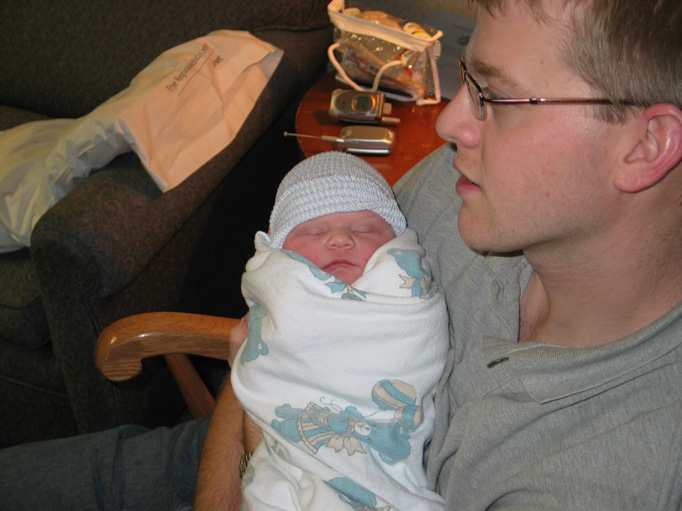 William Andrew Banks
The newest member of the Hickory community. Congratulations to Andi and Michael.
Keep your hands off Stirling bud.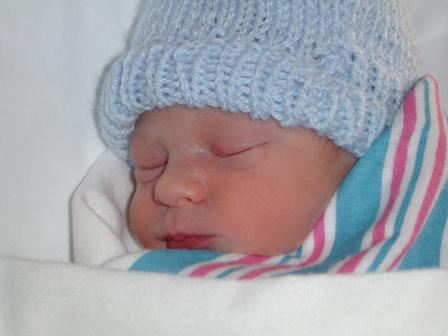 Chase Dutton &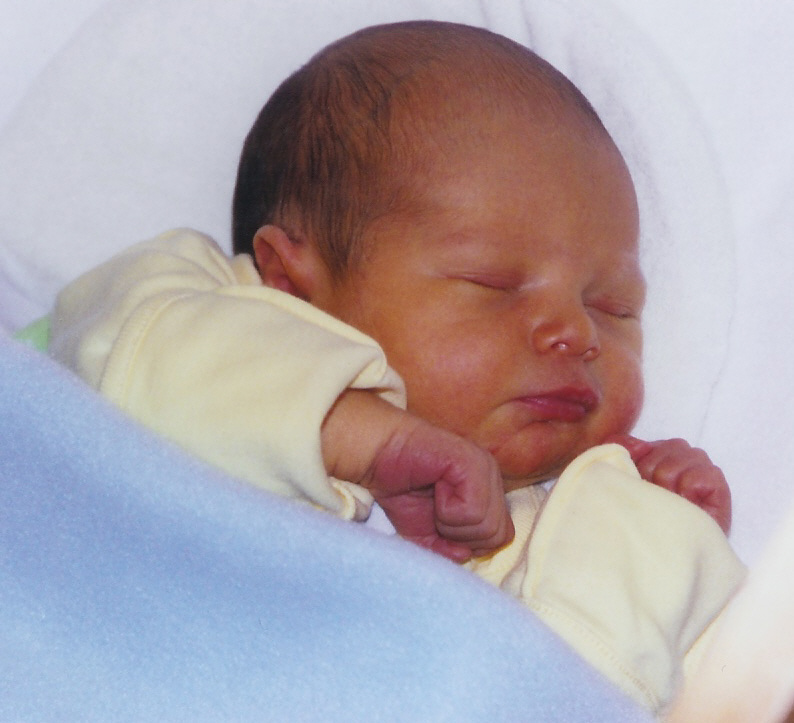 Matts Fickling
Congratulations to the Ficklings on the birth of their son Joel Madison "Matts" on January 20th and to the Duttons on the birth of their son Chase Holden born January 30th. I want a son. We can not wait to meet them both.
Another Chase Susan and Matts Another Matts
---
Anna B. Update
Anna did you do this to yourself? Or is daddy playing silly games? The word from Oregon is that the Barnes have moved into town. Which means they are closer to work and friends and all the amenities Ashland has to offer. Significantly it also means they have electricity, which is a little detail Josh forgot to enquire about with the first house. Just think how ticked off the new owner of their old house will be when he/she finds out!! I smell lawsuit.
---
Blue Harrick
The newest addition to the ltandlela.com pet page
Pooh Bear in Command
I think it is pretty obvious why this picture is being posted.
---

Yankees Win, Henry Loses, Ted is better than Henry
More important than the fact that he has recently had a child is the fact that Henry lost an important bet to Ted Roosevelt on the outcome of this fall's American League Championship Series. The bet had three components.
1. The loser would pay the winner one hundred ($100.00) American Dollars
2. The loser would write a letter stating in detail why the other person (Ted) was a better person, the other team was a better team (Yankees), and why the writer (Henry) was such a miserable person.
3. The above would be posted on this website for all to see.
It should be noted that it did take some time for this process to work itself out (Henry had some b.s. excuse about Woody giving birth to child). It should also be noted that I am posting this as a service to Henry and Ted and that it is painful for me to do so (especiully that damn logo, never thought I would see that).